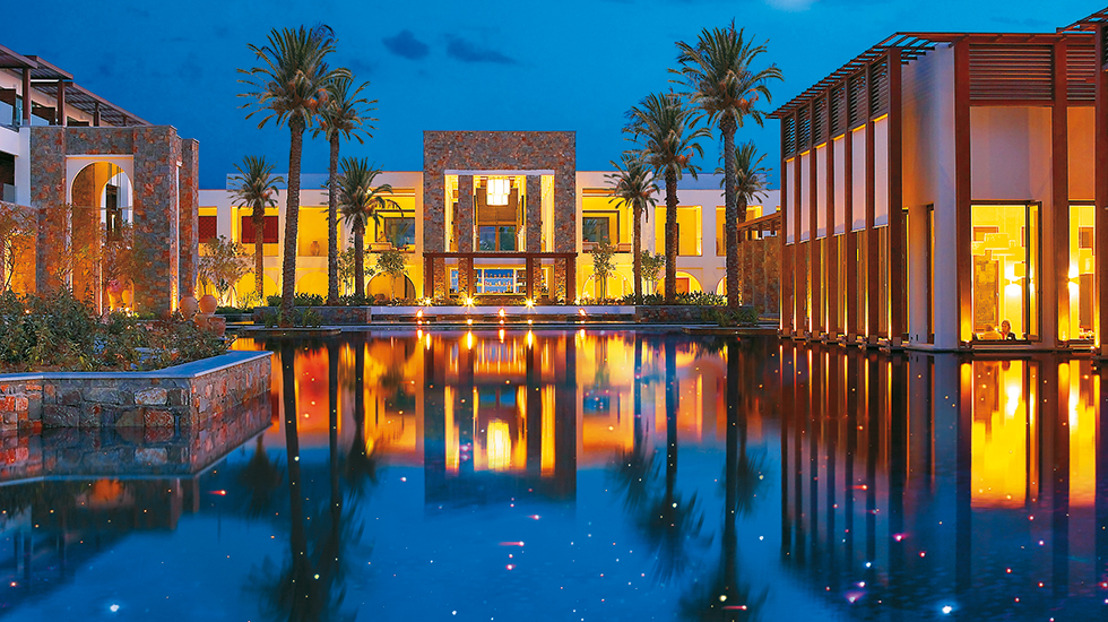 Amirandes: The Avant-garde of Grecotel's Exclusive Resorts
Tuesday, March 14, 2017 —
Inspired by legendary Cretan hospitality, Amirandes Grecotel Exclusive Resort invites discerning travellers to discover the avant-garde of luxury and sophistication. Set amid fragrant gardens and palm-fringed lagoons, this five-star resort combines deluxe accommodation, impeccable services, exceptional dining and a host of activities for a holiday hideaway unlike any other.
Amirandes Celebrates Its 10 Year Anniversary
This summer, we at Amirandes celebrate 10 years of the iconic resort – famous the world over for authentic hospitality and devotion to the art de vivre. Indulge in the celebrations with specially designed events throughout the season. Guests may anticipate a few brand-signature surprises in-room and around the resort. Happy Birthday, Amirandes!
Accommodation: Mixing timeless luxury with modern comforts, Amirandes features an exclusive collection of 212 luxurious guestrooms, bungalows, suites, villas and residences – many with private pools; accommodation with designer furniture, sun beds, love seats, gazebos & private sunbathing terraces and state-of-the-art bathrooms, including colour-and-aroma-therapy Jacuzzi bathtubs.
Sandy Beaches & Private Pools: Highlight your stay at Amirandes with a day on one of two sandy beaches under the cover of palm trees or float away in an Olympic-sized seawater pool. Amirandes also boasts extensive landscaped grounds, a private villa beach area, an indoor pool and 58 private 'star pools' with star lights, temperature control and smooth current in selected room categories.
Fine Dining: Treat your taste buds to a choice of nine exceptional restaurants and bars, including Lago di Candia fine dining, the Blue MonkeyAsian Restaurant, the Minotaur Gourmet Italian Restaurant with an amazing collection of genuine Picasso ceramics, Petrino Seafood Al Fresco,By The Pool All Day Brasserie and the Sunset Lounge Beach Bar. For a truly indulgent dining experience, don't miss out on a delicious meal atXasteria, winner of the Golden Chef's Hat Award for Best Greek Cuisine for the third consecutive year. Proving that quality and excellence are core values of the Grecotel brand, the Xasteria kitchen brigade under Vangelis Fronimakis raises the gastronomic bar in true Amirandes tradition, flawlessly rendering the executive chef's inspired creations with fresh, organic ingredients from Grecotel's Agreco Farm.
Elixir Alchemy Spa: A true sanctuary for the senses – the next best thing to Heaven. This unique hotel spa in Crete redefines holiday spa pampering with signature treatments using organic plants and extracts from Crete's rare aromatic herbs and Ayurvedic therapies by Indian therapists. The Ayurvedic spa experience enables your true nature to blossom and unfold. Combine your booking with spa therapies! Elixir Spa therapists can arrange massages, therapies and beauty treatments in the privacy of your room, suite, villa or outdoors by your pool. Also, don't miss Ayurvedic treatments for children.
Active & Family-Friendly Activities: Amirandes is geared perfectly to active guests as it offers an abundance of activities and sports facilities, including three tennis courts, a watersports area, twice-daily beach volleyball and a Golf Academy; from amateurs to professionals, Amirandes offers golf lovers exclusive privileges, special prices and offers in partnership with the Crete Golf Club, which is located just 10 minutes away and holds a unique challenge with its 18-hole golf course and a pleasant experience all year round. For families with young children, the Grecoland Children's Club is sure to provide hours of fun, and Amirandes is also ramping up summer activities for younger guests with its new Arsenal Soccer School, whereas during high season, professional coaches will offer playing tips exclusively to kids aged 5–14. On top of that, the hotel's entertainment team offers a variety of activities, from live music and dance shows to pool & beach parties, an outdoor cinema and a Cretan folklore evening.
Weddings & Honeymoons: Celebrate fairytale weddings at Amirandes, romance under the stars and on the beach, from simply the happy couple to the whole family in attendance in Crete – the choice is yours! From the moment you check-in as husband and wife, we promise you an unforgettable experience. The sparkling blue sea, twinkling stars, sensuously decorated suites & villas and discreet service will make your honeymoon a once in a lifetime experience. Luxuriate in a romantic breakfast served on your secluded veranda before soaking up the sun beside your private pool.
For more information, please visit http://www.amirandes.com.
Book with Thomson: Thomson is currently offering a three-night stay (half-board) from Manchester based on two adults sharing for as low £459pp: https://goo.gl/9WYu73.