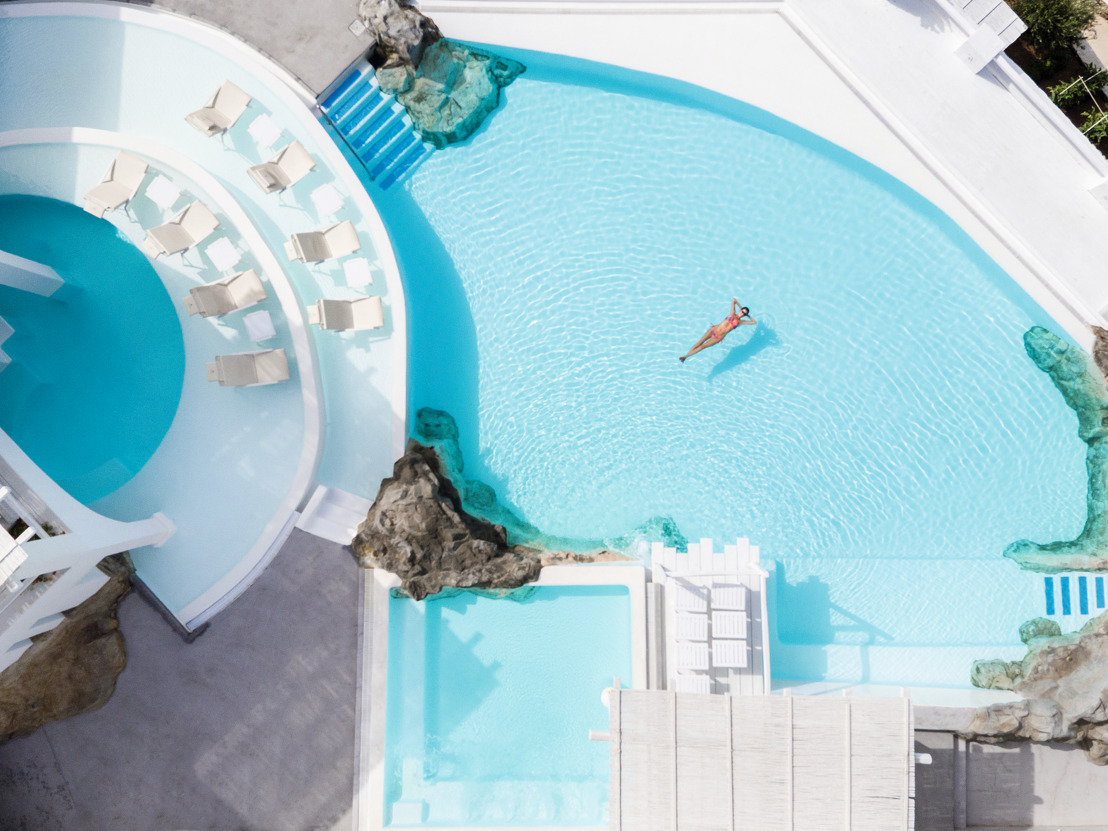 Inside Grecotel, the Largest Luxury Hotel Collection in Greece
Monday, December 10, 2018 — When it comes to Greek hospitality, it doesn't get better than Grecotel. The brand is synonymous with quality hotels and resorts, personalised service, traditional Greek hospitality and a concern for the environment and culture of Greece. In fact, Grecotel S. A., part of N. Daskalandonakis Group, is Greece's largest luxury hotel collection and one of the country's largest tourism businesses. Over 6,300 personnel are employed in Grecotel offices and hotels, making it the most significant employer in the Greek hospitality sector.
Led by Location
Almost four decades since its formation in 1981, Grecotel features 32 luxury hotels and resorts across Greece's most beloved locations. The 4* and 5* properties are located in Crete, Corfu, Chalkidiki, West Peloponnese, Rhodes, Mykonos, Kos, Athenian Riviera, Athens, Larissa and Alexandroupolis. No matter where guests choose to stay, they will find a character that's unique to each property in the Grecotel portfolio.
The Group consists of six distinctive collections of hotels & resorts:
Exclusive: Mykonos Blu, Amirandes, Caramel, Cape Sounio, Corfu Imperial, Mandola Rosa
LUX ME: White Palace, Daphnila Bay Dassia, Rhodos
Luxury: Eva Palace, Creta Palace, Kos Imperial, Pella Beach, Olympia Riviera & Aqua Park, Olympia Oasis & Aqua Park, Olympia Oasis Village & Aqua Park
Premium: Filoxenia, Plaza Spa Apartments
Family: Casa Marron, Meli Palace, Club Marine Palace, Royal Park
City: Pallas Athena, Vouliagmeni Suites, Larissa Imperial, Astir*Egnatia Alexandroupolis
Each property showcases design inspired by the cultural heritage, notable archaeological sites and natural beauty of Greece. The accommodation caters to all tastes, ranging from sophisticated sea view rooms, family suites and bungalows to exclusive villas with the option of a private pool and gym. All properties but one are seafront.

Award-winning Hospitality
Since the foundation of the Nikos Daskalantonakis-Grecotel Group in 1975, Grecotel and its management have earned thousands of national and international awards for high-quality service, visitor satisfaction, contributions to Greek tourism products, organic cuisine, environmental awareness and sustainability, and community actions. Most recently, Grecotel's Mykonos Blu won the 2018 Condé Nast Traveler Reader's Choice Award.

Privilege Club
Guests have even more reason to return year after year thanks to Grecotel's Privilege Club. The loyalty scheme was founded in 1996 as the first hotel loyalty scheme in Greece. The club has over 204,000 members and was recently relaunched with an abundance of new benefits for members.

Sustainability and CSR at Grecotel
Besides receiving thousands of awards, the leading hotel group has supported environmental organisations and initiatives across Greece since 1992, with the Grecotel Environmental Programme being the prototype at the time for resort hotels throughout the Mediterranean. In 2017, the N. Daskalantonakis-Grecotel Group was involved in more than 100 corporate social responsibility (CSR) programmes promoting Greek tradition, cultural heritage, cooperating with cultural organisations, and supporting local initiatives that impact local communities. Other activities are working with NGOs responsible for vulnerable social groups, raising environmental awareness by monitoring such organisations, and implementing related actions and initiatives.

AgrecoFarms
AgrecoFarms, just outside Rethymno in Crete, welcomes people from all over the world to take part in a Cretan farming experience. The experience combines local traditions, heartwarming hospitality and amazing food at the Taverna restaurant, all in a beautiful natural setting.
The AgrecoFarms product series is an amazing collection of herbal body care products inspired by the mythical nature of Crete. Exclusive lines of authentic gourmet food products and selected organic delicacies are available online.
For more information, visit grecotel.com.
ENDS
Notes to Editors
Hi-res press release photos: goo.gl/CExcAz