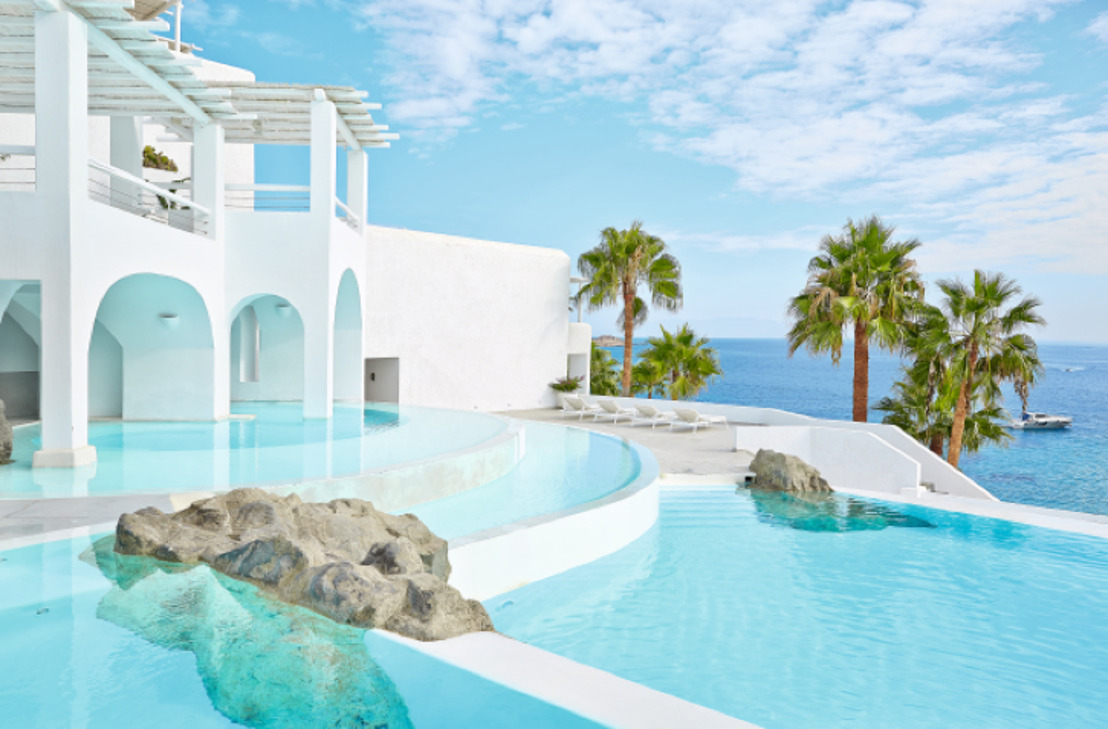 Spring has Sprung: Where to Find Greece's Top Pools and Beaches
Cool off with Grecotel, the leading collection of luxury resorts and hotels
Wednesday, 29 May 2019 — From idyllic island beaches and mesmerising infinity pools to private pools surrounded by fragrant gardens with views of the dazzling coasts, it's worth visiting a Grecotel hotel just for its beach or pool. A huge variety of swimming havens have been attracting families, couples and friends from all across the world.
Grecotel Corfu Resorts
On the Kommeno Peninsula of Corfu, you'll find three of the most amazing Grecotel resorts. The vibrant natural beauty of velvet green cypress trees, silver olive groves and mountainous skylines that border deep blue waters, make Corfu a popular island getaway.
Corfu Imperial, Grecotel Exclusive Resort
Located on a private peninsula, Corfu Imperial is surrounded by the crystal blue waters of the Ionian Sea. The hotel has private coves with 4 sandy beaches and 1 pebbly beach. Awarded with the Blue Flag, all beaches have the seal of approval. Swimmers are spoilt for choice with 1 brand new grand pool, 1 indoor 50m² freshwater Spa pool and the private freshwater pools of villas!
For more information, visit https://www.corfuimperial.com/
Eva Palace, Grecotel Luxury Resort
Boasting ultimate privacy, Eva Palace lies in a secluded bay with an idyllic sandy/pebble beach by its side. Eva Palace's stylish pool area offers prime views of the pretty coastal villages and small islands that dot the Ionian Sea. Grabbing a fresh cocktail at the swim-up bar is a real treat, as is indulging in fine sushi from the poolside restaurant Steak & Sushi Restaurant.
For more information, visit https://www.evapalace.com/
LUX ME Daphnila Bay Dassia, Grecotel LUX ME Resort
Hidden amongst blooming gardens, aromatic pine trees and swaying palm trees, LUX ME Daphnila Bay Dassia resembles a tropical oasis. The quiet sandy beach has been awarded the Blue Flag and has plenty of naturally-shaded lawns, perfect for the whole family! As well as a 315m² freshwater main pool LUX ME Daphnila Bay Dassia also has a 48m² children's pool and the 85m² indoor heated Thalasso seawater pool.
For more information, visit https://www.daphnilabay.com/
Creta Palace, Grecotel Luxury Resort, Crete
Spanning across 300m of beach, Creta Palace offers sand, pebbles and all in between! The beach has been awarded the international Blue Flag. Aside from Grecotel's usual complimentary sunbeds, sun terraces and other facilities, at Creta Palace, you can step it up with waiter service and the separate beach area with private pavilions and exclusive services.
Creta Palace boasts a huge landscaped seawater main pool of 786m², a children's pool of 200m² with 2 water slides and 10 Private pools for villa guests! There is also a freshwater indoor pool with a jacuzzi.
For more information, visit https://www.cretapalace.com/
Mykonos Blu, Grecotel Exclusive Resort, Mykonos
Grecotel's most extravagant villa retreat, Mykonos Blu, sits right in the Cycladic hotspot of dreamy beaches, unique landscapes and picture-perfect harbours. Mykonos Blu is built above Psarou Bay with steps leading down to world-famous Psarou beach, a Blue Flag awarded beach. The sunbeds here have plush mattresses and you won't even have to leave them since food and drinks service extends to the foot of your sunbed!
The resort boasts 20 pools, including one magnificent seawater infinity pool. Couples travel from all corners of the world to spend quality time in the romantic bungalow suites with private pools.
For more information, visit https://www.mykonosblu.com/.
Cape Sounio, Grecotel Exclusive Resort, Athenian Riviera
Cape Sounio is just 10 miles south of Athens, where the city streets turn into idyllic palm-fringed beaches and oceanfront promenades of the Athens Riviera. The resort is home to 2 secluded crescent sandy beaches. With gently shelving sandy seabeds, that makes the bays very safe for swimming, and a freshwater children's pool next to the main pool and one glass-walled indoor pool heated during the season, Cape Sounio is a firm family favourite.
Guests love spending full days relaxing by the main seawater pool surrounded by fragrant gardens, lawns, palm trees and admiring the famous Poseidon's Temple from the sunbathing patios. And it doesn't end there; the heated deep hydro-tonic Aqua Elixir pool never fails to impress with its octagonal glass walls and hand-laid aquamarine mosaics that reflect the landscapes.
For more information, visit https://www.capesounio.com/
ENDS
Notes to editors
For media enquiries, email UKoffice_PR@grecotel.com, Hannah Beeching
About Grecotel Hotels & Resorts
Grecotel Hotels & Resorts, the leading luxury hotel collection in Greece, delivers sophisticated lifestyle experiences for travellers in the country's most beloved destinations. After 45 years of dynamic presence in the country, Grecotel has grown to support 12 tourist destinations in Greece. Each of Grecotel's 32 luxury hotels and resorts is a unique architectural experience and a paradise of opulent amenities, gourmet restaurants and elegant details embodying the essence of Greek hospitality.
With 6,000 rooms, Grecotel Hotels & Resorts accommodate about 350,000 visitors from more than 150 countries every year. The company's assets also include 15,000 m of coastline, 200 restaurants and bars, 10 conference centres with 60 meeting rooms totalling 11,500 sq m. and 3 thalassotherapy centres totalling 6,500 sq m.